Beginner Kids Martial Arts Classes Enrolling In September
Would you like to see your children healthy, and confident, with a lifelong love of improvement?
Our Lil' Ninjas program, designed for kids aged 4 to 12, teaches your child to be a good citizen, and an active, healthy child. An environment that gently guides your child in the direction of collaboration, respect, achievement, and self-control will help your child become well rounded -- developing your child's social, emotional, physical and intellectual capability. It is a three-pronged program: motivation, teamwork, and self control; each making up the three legs necessary for life's precious balancing act.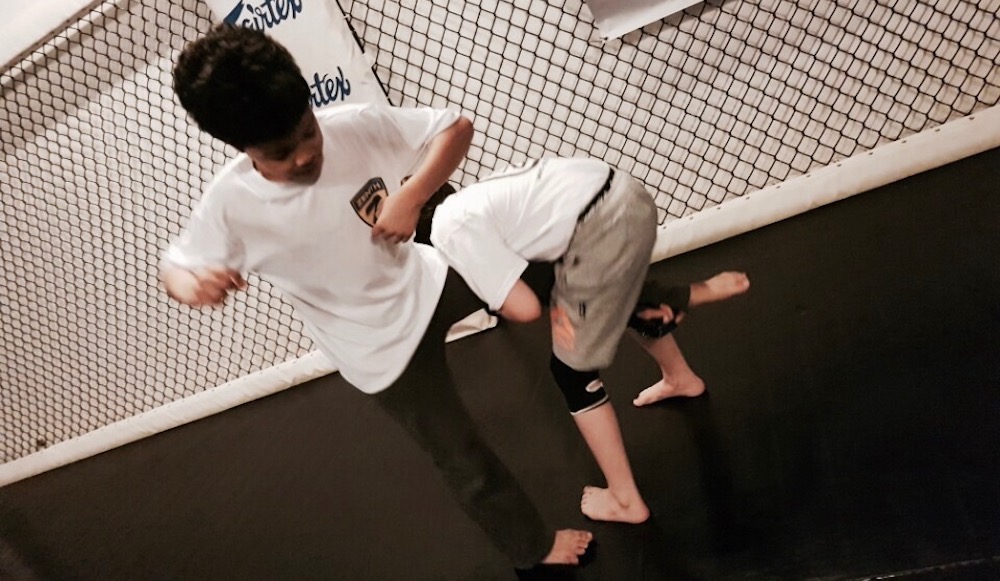 YOUR CHILD WILL LEARN:
Skill #1: Focus – Your child will develop improved listening and reaction skills, as well as at an earlier age than most, develop an advantage in learning her/his body's relation to space, and how to feel confident about her/his physical capability. With the ability to focus, coordinate and balance the physical self in space, your young one will excel faster in physical activities, and therefore gain confidence, especially when it comes to focusing and listening in school.
Skill #2: Memory - "Tell me, and I'll forget, show me, and I'll remember, involve me, and I'll understand". Developing good memory is exercise for your child's brain. The more your child does activities that involves the physical being in space, the better are the results both physically and cognitively, and she/he will develop at an early age habits of analytical focus where physicality and space are involved, which is a majority of your child's lived social experience. Not only will your loved one develop concentration and coordination, and avoid the embarrassment of clumsiness, they will develop an intimate understanding of their social space by considering themselves involved in that social space.
Skill #3: Self-Control - Self-control guarantees self confidence. Having control dictates that your child will develop a predisposition to make good decisions. In addition to this, eventually, regardless of the difficulty of the situation, your child will acquire the confidence to know the right decision will be a well-thought-out one; they will also acquire the self-assurance to ask someone of expertise for good advice when in doubt. Self-control builds confidence, and confidence builds tomorrow's positive role models.
Skill #4: Teamwork and socialization– This we feel is the most important skill for a child to develop at an early age. This life skill promotes understanding, compassion, sharing and encouragement. The more comfortable your child is working with others, the more he or she will succeed. A child will learn that what they contribute to their social space shapes their social setting. If they collectively contribute what is good to the social pot today, tomorrow they will reap the rewards of an uplifting social setting.
YES, MARTIAL ART TRAINING CAN DO ALL OF THIS FOR YOUR BELOVED CHILDREN!
At Toronto No Gi we believe every child is gifted in unique ways. However, some children will only take on tasks where they are certain to do well. Our job is to encourage the children to challenge themselves, and to treat each task, not as a fail or succeed situation, but as a learning experience that can only help in the bigger, more important conquest that they may come across at a crucial point in life, where the two Cs (commitment and competence) displace wishful thinking or luck.
True self-esteem is created when a child is confident. This is achieved not just through accomplished tasks, acquired skills and witnessed progresses through stages of development, or through having confidence in one's ability, but also understanding that learning is a life-long journey. Once a child recognizes her/his development, he/she will be proud.
At the end of one month your child will be different, and at the end of six months, your child will become different in profound ways.
GIVE YOUR CHILD AN EDGE IN LIFE STARTING NOW!
With new Kids Martial Arts classes starting this month, there's no reason to wait!
To learn more, just complete the short form on this page. We'll give you all the information you need to get your child started in fun and rewarding Kids Martial Arts classes at Toronto No Gi.
Request Information
Brazilian Jiu Jitsu
Muay Thai Kickboxing
Kids Martial Arts